First, let me preface this post by saying that I am not secretly an employee of Miss Oops. This is only my second blog post, so I'm also certainly not getting their products free. At this point, I don't even think spambots are reading this blog yet. I just happen to like this company's 2 products.
As mentioned in my previous post, I am shaped like Marilyn Monroe if you erased her chest. I'm 5'9" with narrow shoulders, a small waist, a round booty, thighs resembling the trunk of a pecan tree, and long legs, longer than my husband's who is nearly 6 feet tall (my inseam is 33," his is 32"). So you can imagine that if I get something long enough in the sleeves and waist that the booby area will be...shall we say...roomy, which allows for quite the view when I sit down to a staff meeting. Enter the
Boob Tube
- the maker's description:
Is your plunging V-neck revealing a little too much at the office? No problem – reach for Miss Oops Boob Tube! Made of stretchable lace, this modern day bandeau gives you just the right amount of coverage without the added bulk of another layer. Sold Individually. S/M and M/L. Comes in black, white, or beige. Price: $25.00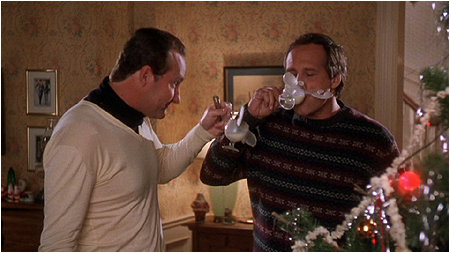 My 2 cents: This could be our generation's dickie. You know, the fake turtleneck sweaters? See below for an image from "Christmas Vacation," in which Cousin Eddie (guy on the left) is wearing a black dickie under a skin tight sweater (yep, be still my beating heart). I remember wearing these nightmares as a toddler (hence the necessary decor of My Little Pony or dancing mice at the time) and hating them for being itchy, hot, and lame. The Boob Tube is a much sleeker (and less humilitating) version of the dickie, and I'd like to try it out.